There's More to Pressure Washing Than Just Pressure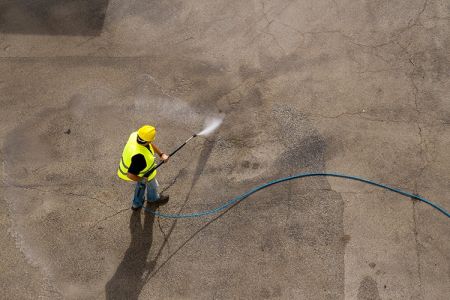 Once spring has sprung in the Dover area and it's safe to remove covers from patio furniture, a significant step remains. It's not exactly time to start entertaining. It's tempting to grab the garden hose, adjust the nozzle to its "maximum setting," and simply let it rip. No detergents. No plan. Just blast it -- and hope it's clean enough. Not so fast, homeowner; there's still work ahead of you.
Pressure washing requires a safe approach and an actual plan for how to carry out the project. While it's fun to turn up the power, this is likely not the best or most efficient approach to pressure washing. In the end, you might just be transferring dirt and grime from one location to another. The surface might look clean, but it isn't. To avoid a disappointing DIY pressure washing result, consider the following steps:
Clear off everything -- chairs, tables, plants, etc. -- first
Use a blower or at least a broom to remove surface dirt and debris
Pressure wash the paved surface so it starts to dry. Use a sweeping motion from the middle out to most effectively perform this step
Line up the items above with adequate spacing; consider cleaning them with an anti-bacterial wipe first
Thoroughly spray each item, starting at the top and then working toward the bottom. Repeat, if necessary
It's OK To Wash Your Roof, But …
Just like any DIY project, homeowners sometimes seek the easiest way to get the best results. This usually is when problems start. And if roof cleaning is involved, you can imagine what might follow. Before you set foot on the bottom rung of that ladder, be sure to:
Secure a ladder that is long enough to accommodate the job
Inform family members of what you'll be doing
Put necessary tools in a bucket or container that will make it easy to transport
Wear gloves and rubber-soled shoes
Always be aware of exactly where you are while on the roof
Use the appropriate low pressure and chemical to properly clean your roof without damaging it.
Take Great Care When Pressure Washing Your Siding
Just as you do when you approach any house washing project, be sure to consider everything safety-oriented. Ask yourself, did I:
Tightly secure all windows, doors, and pet doors?
Cover the chimney to avoid water damage?
Inspect window seals in case caulking has eroded?
Thoroughly test the pressure washing mechanism?
Safety first. Keep this in mind with any home maintenance project.
Avoid All The Hassle And Potential Damage By Simply Calling Us!
While it is true that some homeowners can get away with little pressure washing here and there - it will never be at the same level of quality and efficiency as calling a professional pressure washer like us to take care of your property.
We assure you that - in a fraction of the time and money it'll take you to research, buy equipment and chemicals, properly prepare your surfaces, and read up on pressure washing - we can clean your property's complete exterior surface!
CALL YOUR DOVER PRESSURE WASHING EXPERTS TODAY!