Experienced Building Washing For Commercial Properties in Dover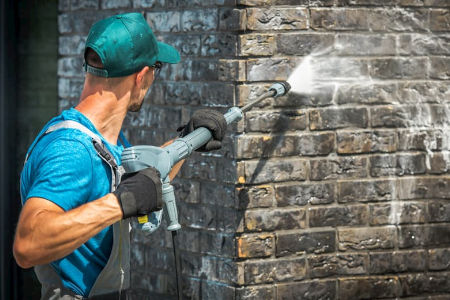 Vanguard Power Washing truly cares about helping you keep your business looking great. Our commercial building washing experts will work until your Dover business and professional properties reflect your approach to business.
We know your livelihood is your passion and you want your commercial building to reflect that passion. So when you consider hiring a Dover pressure washing company, look to Vanguard Power Washing to step up and cleanse your building using the latest and most effective commercial pressure washing methods.
Premier Exterior Commercial Cleaning For Dover
Similar to our residential power washing offerings are our exterior commercial property pressure washing options, which include:
Building washing, including windows
Roof washing
Concrete cleaning
Paver maintenance
In the business world, appearances are key. After all, customers tend to gravitate toward businesses that are attractive, and they tend to shy away from unsightly ones. So, you'll want to keep your Dover business looking its best all year round.
We Can Give Commercial Properties A Clean, Attractive Look
Vanguard Power Washing can soft-wash where needed or use more traditional pressure washing methods when conducting storefront washing. We use the same care with window washing -- clearing the pane of water streaks and dirt and allowing you to see clearly to the outside.
Sometimes we need to turn down the PSI and add eco-friendly detergents to get the job done. Building washing might require this approach in order to restore the like-new look of your commercial property's exterior.
And if your business has an outdoor dining area, it also might be time to consider giving this popular, high-traffic area a patio cleaning treatment.
Food and beverage spills, the elements, and bird and small creature droppings always seem to find their way onto this and other paved areas around your business. You could just hit it with the hose, but likely that will spread the mess around instead of getting rid of it.
Vanguard Power Washing knows when to turn up or turn down the pressure and the temperature. Our professionals will take everything into account before they turn on the water. And when they do, they will be professional and thorough, and you and your customers will see the difference -- immediately.
CALL YOUR DOVER PRESSURE WASHING EXPERTS TODAY!