Regular Gas Station Washing For Your Dover Business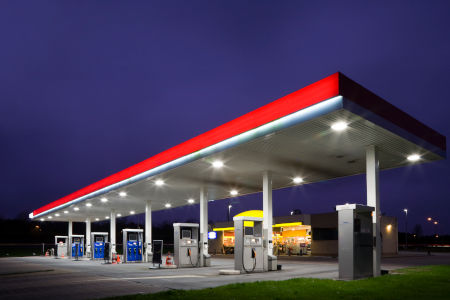 Why is gas station washing in Dover so important? For several reasons. The gas station is a busy place with all kinds of vehicles coming and going and customers popping in to grab a snack or hit the restroom. So keeping the exterior of a gas station looking clean can be a challenge. But it doesn't have to be.
The best pressure washing in Dover is performed by Vanguard Power Washing. And our team of experts specializes in the most effective and impactful pressure washing in the business. This is exactly what is required for the important task that is gas station washing. Vanguard Power Washing's team of professionals will:
Power wash the entire parking lot
Give extra attention to the gas pump area
Complete glass and facade washing
Remove gas, oil, and food stains throughout
Fuel spills are inevitable at a gas station. They not only stain the paved surface; if they aren't removed, traditional gasoline and diesel fuel will eat away at the pavement and expedite the breakdown of concrete and asphalt.
Oil, grease, and beverage leaks and spills also can taint the look of a gas station parking lot. By hiring a pressure washing professional like Vanguard Power Washing, you are demonstrating to your customers just how important their safety is to you.
Convenience Store Exterior Cleaning Is Worth Considering
People go in and out of convenience stores all day and all night. They often are on a road trip or simply stopping in to grab a snack or bag of ice.
Regardless of why they stop, your customers deserve an attractive structure that sets the tone for their quick stop. They have chosen your business, so Vanguard Power Washing urges convenience store owners to choose us to handle gas station washing, convenience store exterior cleaning, and if applicable, restaurant washing.
Full Slate Of Pressure Washing Services
Gas stations and convenience stores also produce a fair amount of trash, especially since these businesses are so busy. The dumpster pad, therefore, is subject to constant use and the challenges that come with it. Regular and thorough dumpster pad cleaning will:
Eliminate unsightly spills and offensive odors
Rid the surface of mold and other allergens
Preserve the life of the dumpster pad
Decrease the likelihood of vermin taking residence
CALL YOUR DOVER PRESSURE WASHING EXPERTS TODAY!